A confluence of factors has caused investor sentiment to sour on emerging markets recently, including global trade tensions, a rising US dollar and idiosyncratic issues in Turkey and Argentina.
While some of the headlines may seem disconcerting, they don't tell the whole story, according to our investment professionals who are on the ground in many of these regions.
Franklin Templeton Emerging Markets Equity believes it's important to point out emerging markets are not homogeneous, and the countries dominating the dire headlines represent a very small part of the emerging market universe. The team points to four reasons that support their more positive view of the asset class as a whole.
Emerging Markets Have Been Able to Navigate Rising US Interest Rates
The rising US dollar has been a central factor in emerging market pain in recent months, and rising interest rates and the short-term impact of US tax reforms have helped fuel this dollar strength.
However, should investors really worry that rising rates will derail emerging markets? Maybe not. The US Federal Reserve's (Fed's) past four tightening cycles did not lead to long-term downward spirals in emerging market equities, as the chart below illustrates.
In addition, the chart below shows that the previous Fed tightening cycle from June 2003 to June 2007 had a limited impact on emerging market currencies.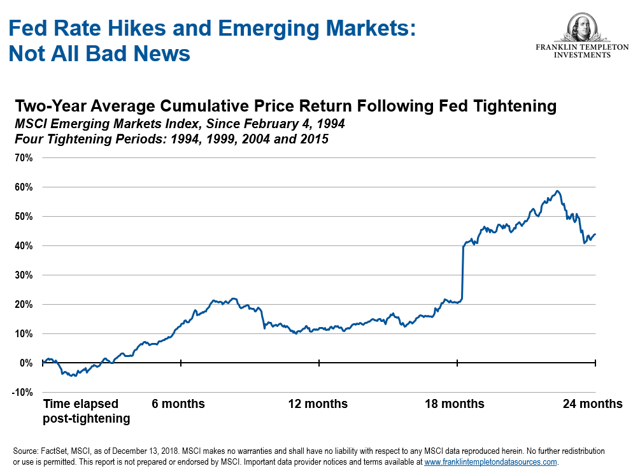 Emerging Markets Remain Global Growth Leaders
While there's been a lot of attention on strong US economic growth recently, the fact remains that emerging markets have, for many years, been the world's growth engine.
In addition, Franklin Templeton Emerging Markets Equity CIO Manraj Sekhon points to a shift in gross domestic product (GDP) growth drivers.